Milton, FL – At this week's Triumph Gulf Coast Board Meeting congratulations were extended to Santa Rosa County for winning their first tenant at Whiting Aviation Park. This win was made possible by Triumph's site readiness investment.
Earlier this month, Leonardo Helicopter was awarded a contract to replace the Navy's aging training helicopters based at NAS Whiting Field. Leonardo has committed to building a 100,000 sq ft support center at Whiting Aviation Park. This project creates 50 new high wage jobs.
"Whiting Field has long proven itself a world leader in helicopter flight training and maintenance, repair and overhaul (MRO) activities, and we are thrilled our investment of Triumph funds into the aviation park could help Santa Rosa County and Leonardo land this important defense contract," said Dr. Pam Dana, Triumph Gulf Coast board member. "We thank the Department of Defense for their trust in our region, and look forward to partnering with them and the county to further expand Northwest Florida's MRO industry cluster."
Board Action Report
Gulf
The Gulf Franklin Campus (GFC) of Gulf Coast State College, located in Port St Joe, was awarded a $2,200,358 Triumph grant to increase the number of students who can be served in the nursing programs offered at the campus. The Triumph Board approved expansion of the program which will result in an additional 289 completers over six years.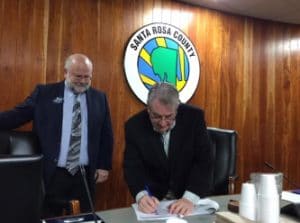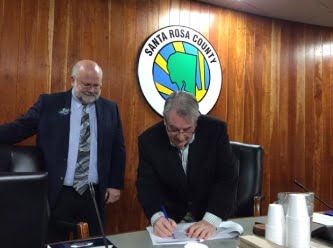 The program's expansion includes the creation of a nursing simulation center using the newest and most effective simulation equipment, technology, and trained faculty. The creation of the Nursing Simulation Center at the GFC will enable the nursing students to perform clinical training on-site resulting in increased enrollment, completion, and job placement in the Certified Nursing Assistant (CNA), Practical Nursing (PN) and LPN to ADN Bridge (Registered Nurse) programs. Historically, the barrier to expanding the nursing programs at the GFC has been a shortage of clinical sites.
Santa Rosa
The Triumph Board voted to negotiate a final grant agreement with Santa Rosa County for a $3,484,728 infrastructure grant to win a pharmaceutical and medical device distribution company's expansion at the county's I-10 Industrial Park. Santa Rosa County is one of the 10 fastest growing counties in Florida and within the top 5% of the fastest growing counties in the US.
Project Lionheart is expected to create 90 new jobs paying at least $52,995 which is 150% of the county's average annual wage. The company will invest over $5M including the construction of a new 100,000 sq ft warehouse if infrastructure improvements are made at the site.
Regional
The Triumph Board also voted to negotiate a final grant award agreement with Florida's Great Northwest (FGNW) for $440,000 to implement a research and marketing project targeted at diversification, enhancement, and recovery of the Triumph disproportionately affected counties. This requested amount represents 48.4 percent of total project costs of $910,000.
The project proposes to focus on three areas: return on investment (ROI) analysis for career and technical education (CTE) programs, supply and demand analysis for industry certifications, and marketing and promotion of regional workforce and training programs.
One of the most important issues to business executives as they consider locations to expand operations is current workforce availability and the future talent pipeline. Having competitive labor market supply data is key when educating companies on the region's workforce pipeline. The information will enhance FGNW and the region's business development efforts by providing more detailed data points which will be shared with business executives and site location consultants and at industry trade shows.
The Labor data analysis will also provide information for the region to better align resources and support targeted industry clusters with the workforce needed to remain competitive. The data can also be used by educator, parents and students to make informed decisions about career opportunities
The Triumph Gulf Coast Board of Directors is appointed by the Governor, Chief Financial Officer, Attorney General and presiding officers of the Legislature. The appointees to the Triumph
Board are Lewis Bear, Jr., Allan Bense, Dr. Pam Dana, Chair Don Gaetz, Ben Lee, and Stephen Riggs, IV and Matt Terry. All meetings of the Board are public.